The Muslim 'god' Allah, is not the Jewish & Christian GOD!
(general)
The Muslim 'god' Allah, is not the Jewish & Christian GOD!
The Muslim God 'Allah' is an evil god of 'War' - an ancient 'moon god'. Whereas the Christian GOD is the 'Prince of Peace' who desires that all come to Him to be saved from their own sins. WAKE UP and see what this Muslim usurper 'god' has been doing for the past 1400 years.
IN TORAH (Old Testament) my GOD states He knows of no other gods...
The God of the Christians & Jews are ONE. BUT "the god of the Muslims" is way NOT the same as you incorrectly stated.
The GOD of the Jews & Christians is Yahweh! Christians know Yahweh as the Father, the Son and the Holy Spirit. There is ONE GOD. But this ONE GOD manifests Himself as a Triune God. DO WE HAVE TO UNDERSTAND this? NO! Who among us knows the ways of the Spirit, or the spiritual realm? We think one person in our 3 dimensional world. Yet the Spirit World is most undoubtedly different. There can be ONE GOD who has 3 distinct manifestations /interactions/natures with our 3 dimensional world. LOOK to Torah and the Psalms -- where the WORD OF GOD says He has a Son - who Christians know as the Prince of Peace and the Lord and Savior - Jesus/Yeshua - the ONLY mediator between us and the Father. Likewise: Can a DOG really understand and know the nature of a man or woman?
IS THE MUSLIM God the same as the Jewish & Christian. Heaven forbid! The Muslim god is an imposter who only wants the entire world to bow down to him as slaves. Should you refuse, the Muslim god gives you 2 choices (1) die, and (2) pay taxes to Muslims just to stay alive. Those are in the imposter Muslim God's unholy book -- the Qur'an/Koran.
All of the ancient Jewish writings (Mishnah, Gemara, Talmud, Midrashin) all regard this portion of scripture as relating to the Messiah. The Talmud (Sanhedrin 98) teaches that Isaiah 53 refers to Messiah. The Targum of Jonathan begins it with the words Ha yatslakh avdee Mashikha, "Behold my servant the Messiah shall prosper"...
Yeshua/Jesus also fulfilled the Jewish prophecy of the "Tzit Tzit"...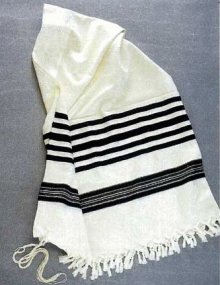 Picture of a Tallit with tzit-tzit at the bottom; such as Yeshua/Jesus would have worn
Jesus Fulfilled the Prophet Malachi's awesome Prophecy of the Tzit-Tzit:
"But unto you that fear my name shall the Sun of righteousness arise with healing in his wings," Malachi 4:2
According to Jewish sages and tradition, this Sun of Righteousness referred to in Malachi's prophecy was understood to be the Messiah, who would have the power to heal who ever touched the tzit-tzit (fringes) on his garment.
See this amazing prophecy of the Tzit Tzit here: http://bibleprobe.com/tzittzit.htm
The fulfillment of this prophecy of the 'Tzit Tzit' by Jesus/Yeshua:
One of the best known miracles of healing that Jesus performed was the occasion when a woman who had suffered from a hemorrhage for twelve years came up behind him and touched the hem of his garment. Both Matthew and Mark tell us about this incident below. Mark further tells us, that wherever the Lord went whomever merely touched the border of his garment "were made whole".
Matthew 9:20-22
20 And, behold, a woman, which was diseased with an issue of blood twelve years, came behind him, and touched the hem of his garment: For she said within herself, If I may but touch his garment, I shall be whole. But Jesus turned him about, and when he saw her, he said, Daughter, be of good comfort; thy faith hath made thee whole. And the woman was made whole from that hour.
She was expressing her faith in Jesus as the Son of Righteousness with healing in His wings.
Mark 5:25-34
And a certain woman, which had an issue of blood twelve years, And had suffered many things of many physicians, and had spent all that she had, and was nothing bettered, but rather grew worse, When she had heard of Jesus, came in the press behind, and touched his garment. For she said, If I may touch but his clothes, I shall be whole. And straightway the fountain of her blood was dried up; and she felt in her body that she was healed of that plague. And Jesus, immediately knowing in himself that virtue had gone out of him, turned him about in the press, and said, Who touched my clothes? And his disciples said unto him, Thou seest the multitude thronging thee, and sayest thou, Who touched me? And he looked round about to see her that had done this thing. But the woman fearing and trembling, knowing what was done in her, came and fell down before him, and told him all the truth. And he said unto her, Daughter, thy faith hath made thee whole; go in peace, and be whole of thy plague.
Mark 6:56-
And whithersoever he entered, into villages, or cities, or country, they laid the sick in the streets, and besought him that they might touch if it were but the border of his garment: and as many as touched him were made whole.
Moses did speak of a deliverer to come.
Tucked into the midst of the summary of the Law in the eighteenth chapter of Devarim (Deuteronomy), talking about the punishment of false prophets, Moses made a remarkable prophecy: "The Lord your God will raise up for you a Prophet like unto me from the midst, of your brethren. Him you shall hear."
Isaiah 53:9, "He was assigned a grave with the wicked, and with the rich in his death, though he had done no violence, nor was any deceit in his mouth." Jesus remember, was buried in a rich man's tomb - that of Joseph of Arimathea. Next, Isaiah tells us that it was the Lord who was crushing God's 'ideal servant' and that the Lord was pleased to do so - since the 'ideal servant' was being offered up as a 'guilt offering'...
The rabbinical "Flip Flop"...
See why the Suffering Servant passages had to be describing an individual (the Messiah), and not Israel as Rabbis began to wrongly teach in the middle ages only. In the 13th and 12th centuries there were many conversions of Jews to Christianity because of the obvious description by the prophet Isaiah in Isaiah 52 - 53, that could only be referring to the Messiah/Yeshua/Jesus and His historical suffering, death and resurrection. Prior to this Rabbinical "turn around", Jews had always taught true Biblical apocalyptic Torah Judaism - which their fathers taught them. And that was that the Suffering Servant passages by Isaiah referred to the Messiah. Read at the link below, why the Suffering Servant passages cannot refer to Israel and the suffering Israel has endured: here
We also are forewarned about the coming of Jesus in the Nativity passage and in 48:16-17 of Isaiah and in Genesis, the Psalms, Proverbs, and by Zechariah, Micah and Hosea:
Therefore the Lord himself shall give you a sign; Behold, a virgin shall conceive, and bear a son, and shall call his name Immanuel. Isaiah 7:14 (written: 712 BC). Immanuel meaning: God is wih us.
For unto us a Child is born, unto us a son is given; and the government will be upon His shoulder: and his name will be called Wonderful, Counsellor, The mighty God, The everlasting Father, The Prince of Peace. Isaiah 9:6
Zechariah 12:10 - And I will pour upon the house of David, and upon the inhabitants of Jerusalem, the spirit of grace and of supplications: and they shall look upon me whom they have pierced, and they shall mourn for him, as one mourneth for his only son, and shall be in bitterness for him, as one that is in bitterness for his firstborn.
Genesis 1:26 (4000 B.C.): "And God said, Let us make man in our image.."
Proverbs 30:4 (700 B.C.): "Who hath ascended up into heaven or descended? Who hath gathered the wind in His fists? Who hath bound the waters in a garment?Who hath established all the ends of the Earth? What is His name, and what is His son's name, if thou canst tell?"
Psalm 2:11-12 (1000 B.C.): Serve the LORD with fear, and rejoice with trembling. Kiss the Son, lest he be angry, and ye perish from the way, when his wrath is kindled but a little. Blessed are all they that put their trust in him.
Referring to the Triune God: 16 Come ye near unto me, hear ye this; I have not spoken in secret from the beginning; from the time that it was, there am I: and now the Lord GOD, and his Spirit, hath sent me. 17 Thus saith the LORD, thy Redeemer, the Holy One of Israel; Isaiah 48:16-17
While it is true that God is "one" (Deuteronomy 6:4), the Hebrew word translated as "one" is echad, which is the same Hebrew word translated as "one" in Genesis 2:24, saying that a man and his wife shall become "one" flesh
But, our one God is Spirit and Light, with 3 natures. Jesus is God also, a part of the same spirit and the same light of the Father.
The Son gives Himself up to the Father nature as being Greater than the Son. When on earth, Jesus was fully man (and fully God), yet He was "positionally" inferior to the Father. Just as flesh and blood is inferior to a Spirit. The Son is also the Logos, and the Word of God, who made everything seen & unseen by His Word.

The Father defers to the Son nature for our Salvation (Jesus is our ONLY mediator).

The Holy Spirit permeates all to bring us knowledge of God.
Try to grasp Jesus' nature as being both totally human and totally God. First, remember while on earth, Jesus forgave sins and did miracles in His own holy name.
To help you with this consider these paradoxes by early church father Gregory of Nazianzus (329-390 A.D.). Gregory used these to argue against Arianism.
"He was baptized as a man -- but He remitted sins as God...He was tempted as man, but he conquered as God...He hungered -- but He fed thousands...He was wearied, but He is the rest of them that are weary and heavy-laden. He was heavy with sleep, but He walked lightly over the sea...He pays tribute, but it is out of a fish; yea He is the king of those who demanded it...He prays, but he hears prayer. He weeps, but He causes tears to cease. He asks where Lazarus was laid, for He was man; but He raises Lazarus, for He was God. He is sold, and very cheap, for it is only for thirty pieces of silver; but He redeems the world, and that at a great price, for the price was His blood. As a sheep he is led to the slaughter, but He is the shepherd of Israel, and now of the whole world also...He is bruised and wounded, but He heals every disease and every infirmity. He is lifted up and nailed to the tree, but by the tree of life He restores us. He dies, but he gives life, and by His death He destroys death."
Jesus raised the trusting Old Testament Jewish Saints with Him:
Matthew 27:52-53
"and the graves were opened; and many bodies of the saints which slept arose, and came out of the graves after his resurrection, and went into the holy city, and appeared unto many."
From Psalm 16:10 (written 1000+ B.C.):
"For thou will not leave my soul in hell; neither wilt thou suffer thine Holy One to see corruption."
When Christians recite the Apostles' Creed they affirm their belief that Jesus descended into hell (Sheol in Hebrew or Hades in Greek ). Early church fathers, Tertullian, Hippolytus, Origen, among others, regarded the descent literally....
From the Apostles Creed:
He descended into hell.
The third day He arose again from the dead.
Reports of Saints who rose from the dead with Jesus on Easter
The Ante-Nicene Library is a collection of manuscripts written by important Christians from the time of Jesus Christ to the Council of Nicea (325 AD). These manuscripts were not included in the Christian Bible, so they are non-canonical.
Within this library are numerous writings about how Jesus descended into Hades while His body lay in the tomb, and that numerous saints (one report 12,000) rose from the dead with Jesus on Easter Sunday. These reportedly remained on earth for the 40 days Jesus remained after having risen and ascended into Heaven with Jesus. There are many reports of these risen saints having been seen in Jerusalem after Easter Sunday.
The Gospel of Nicodemus, Vol 8, Chapter I:
Then Rabbi Addas and Rabbi Finees, and Rabbi Egias, the three men who had come from Galilee, testifying that they had seen Jesus taken up into heaven, rose up in the midst of the multitude of the chiefs of the Jews, and said before the priests and the Levites, who had been called together to the council of the Lord: "When we were coming from Galilee we met at the Jordan a very great multitude of men, fathers who had been some time dead"...And they went, and walked around all the region of the Jordan and of the mountains, and they were coming back without finding them. And, behold, suddenly there appeared coming down from Mount Amalech a very great number, as it were, twelve thousand men, who had risen with the Lord. And though they recognized very many there, they were not able to say anything to them for fear and the angelic vision; and they stood at a distance gazing and hearing them, how they walked along singing praises, and saying; "The Lord has risen again from the dead, as He has said; let us all exult and be glad, since He reins for ever. Then those who had been sent were astonished and fell to the ground for fear, and received the answer from them, that they should see Karinus and Leucius in their own houses. And they rose up and went to their houses, and found them spending their time in prayer.
Concerning the King of Edessa, Vol 8, Page 653:
"He humbled and emptied and abased Himself, and was crucified, and descended to Hades and broke through the enclosure which had never been broken through before, and raised up the dead, and descended alone, and ascended with a great multitude to His Father".
Pilate quotes Ben Isham, a sentry at Christ's Tomb
Below from Acta Pilati (Pilates report to Caesar)
BELOW IS A PORTION ONLY taken from "Acta Pilati", reported by Rev W. D. Mahan to have been found in the Vatican Archives
BEGINS WITH:
"To Tiberius Caesar, Emperor of Rome. Noble Sovereign, Greeting: The events of the last few days in my province have been of such a character that I will give the details in full as they occurred,
"He said that about the beginning of the fourth watch they saw a soft and beautiful light over the sepulchre. He at first thought that the women had come to embalm the body of Jesus, as was their custom, but he could not see how they could have gotten through the guards. While these thoughts were passing through his mind, behold, the whole place was lighted up, and there seemed to be crowds of the dead in their graveclothes. All seemed to be shouting and filled with ecstasy, while all around and above was the most beautiful music he had ever heard; and the whole air seemed to be voices praising God."
LEARN MORE ABOUT THIS SCOURGE UPON THE ENTIRE EARTH known as ISLAM, here: http://IslamTruths.com
---
Complete thread:
RSS Feed of thread