Liver damage: Stop using Hydroxycut products, FDA says
(health)
Stop using Hydroxycut products, FDA says
Story Highlights
- FDA recalls Hydroxycut products after 23 liver injuries and one death
- Hydroxycut products used as popular dietary supplement for weight loss
- Damage from product: liver failure, jaundice, seizures, cardiovascular problems
By Saundra Young
CNN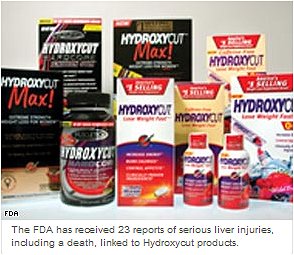 WASHINGTON (CNN) -- Hydroxycut products, popular dietary supplements used for weight loss, have been linked to liver damage and are being recalled, the U.S. Food and Drug Administration said Friday.
The FDA said it has received 23 reports of serious liver injuries linked to Hydroxycut products, which are also used as energy enhancers and as fat burners.
The reports include the 2007 death of a 19-year-old man living in the Southwest, which was reported to the FDA in March. Other serious liver problems reported included liver damage that resulted in a transplant in 2002, liver failure, jaundice, seizures and cardiovascular problems.
The FDA is warning consumers to immediately stop using 14 Hydroxycut products manufactured by Iovate Health Sciences Inc. of Oakville, Ontario, and distributed by Iovate Health Sciences USA Inc. of Blasdell, New York.
Finish reading this at: CNN
---
Complete thread:
RSS Feed of thread
Liver damage: Stop using Hydroxycut products, FDA says

- AC, 05-01-2009

(health)