Ancient bread sprouts anew- Ingredients date to biblical tim
(health)
Ancient bread sprouts anew
Ingredients date to biblical times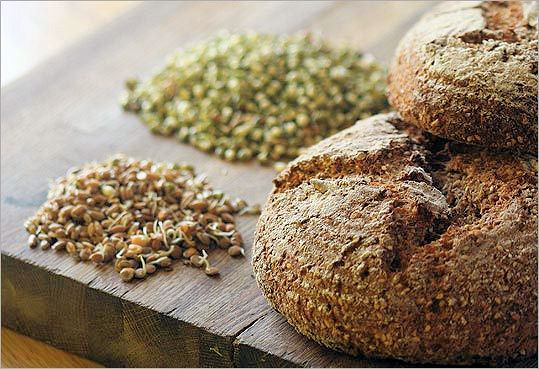 In recent years bread has found itself in an increasingly contentious relationship with the general public. Sales have flat-lined, and to dieters everywhere the staff of life has come to equal unwanted carbs - otherwise known as poison. In an effort to resuscitate the market, breadmakers have festooned just about every package with the words "whole" or "multi-grain," which usually ranslates to a little or even a lot of whole-wheat flour, plus some seeds. But there are a few bakeries - until recently fringey and on the West Coast - that make bread not from flour but from whole sprouted grains. Sprout a grain and you get a protein punch as robust as any powdered shake or bowl of beans. Sprouted bread, it could be said, is officially in the nation's culinary zeitgeist.
Related
Renewed faith in sprouted bread
Recipe Sprouted bread
Photos Making sprouted bread, step by step
According to some, sprouted bread has been around since biblical times. Witness a couple of sprouted bread bestsellers named after holy scripture. (Ezekiel 4:9 reads: "Take also unto thee Wheat, and Barley, and beans, and lentils, and millet, and Spelt, and put them in one vessel, and make bread of it.") To the more romantically inclined, those are sprouting instructions and a recipe with one seriously long pedigree. Meanwhile, the cynics in the crowd suspect this is a fad concocted by a few crafty marketers.
I was a skeptic - on multiple levels. The first provocation was my wife, who came home with packages of sprouted bread refrigerator-shipped from California, favoring this distinctly un-local fare to the artisanal loaves I was pulling from the oven every week. My cries of "But this is fresh-baked bread!" were met with her stares. I was further piqued by the little "©" on her packages that follows the verses from Ezekiel and Genesis. Copyrighting scripture from the Bible? Are you kidding? This is the sort of challenge the avid home cook does not take lightly.

Finish reading this at: Boston Globe
Related
More health related articles at BibleProbe.com
---
Complete thread:
RSS Feed of thread
Ancient bread sprouts anew- Ingredients date to biblical tim

- AC, 03-05-2009

(health)